This is from the program for this year's Barbershop show. I am a co-MC. I play Gillivan.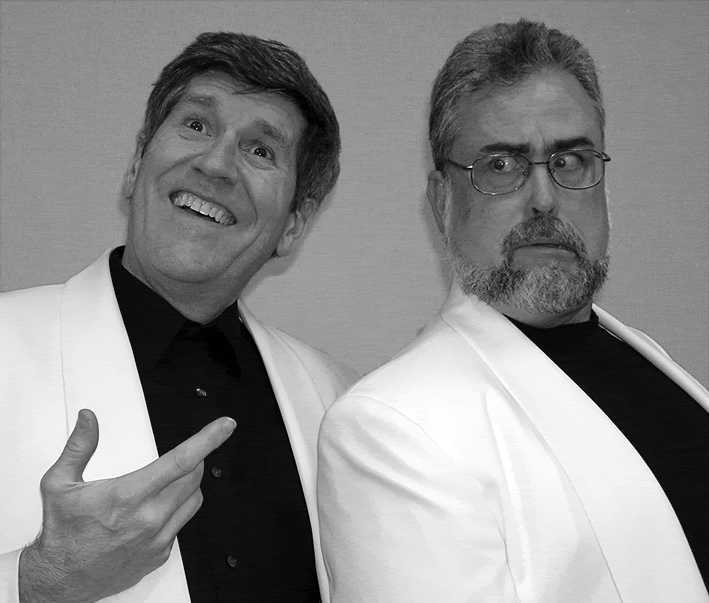 Sammy Sulbert
is a relatively unknown American composer who has done some commercial jingles, and ring tones. In 2003, Sammy was nominated for a prestigious "Ringy" award, but lost because he was unable to get a taxi to the awards ceremony (the taxi company wouldn't come to his neighborhood). Sammy started his musical career as a music stand in his grade school but his height forced him to matriculate to piano stool. In his formative teen years, Sammy attended the esteemed "Lilliwaup Conservatory of Music" where after 6 years he was forced by the faculty to take early graduation. Sammy then made his way to Bloomington, Indiana based on a comment he overheard while buying a Slurpy at 7-11. Sammy said at the time, "that was where the composin' was happenin'". Sammy made his way back to the Northwest where he lived for a time in the NW tunnel of the Seattle Kingdome until as Sammy says, "ka-boom". Sammy manages to make a kind of living in his chosen field while working part time as a goeduck farmer. He currently lives in the Olympic Mountains with his wife, Xristeen and their 3 kids (Mudpuddle, Truck, and Bob). He continues to look for that big composin' break.
Giorgio "Gilly" Gillivan
is a completely unknown lyricist who hasn't managed to write even one good country song. Born in extreme poverty, he managed to claw his way up to the bottom by writing copy for matchbook covers. When he was twenty-one, he moved to the big city — the Italian section of Forks ("Little Tomato"). Here he annoyed his neighbors constantly by crying out in the middle of the night "Why is there no good rhyme for month?" Eventually, they presented him with the book "Rhyming for Dummies" in hopes of getting him to move away. His big break came from a chance meeting with Sammy Sulbert when their cars collided at the only stoplight in Pysht. Gilly was shouting at the top of his lungs and Sammy was leaning on his horn. Suddenly Gilly said, "Hey! That doesn't sound half bad..." The two have been a team ever since, ever searching for the perfect off-off-off-Broadway show. Gilly currently resides in the basement of his mother's double-wide in an abandoned trailer park.